The staff of Mountain View Lutheran Church is committed to bringing excellence in all that they do to help support and further the vision, mission, and ministry of the congregation.
PASTORAL STAFF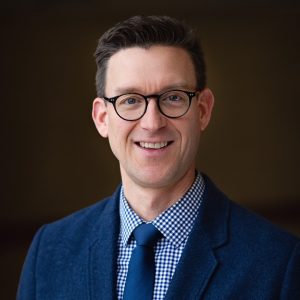 LEAD PASTOR Eric Bostrom • ebostrom@mtviewlutheran.org
► Pastor Eric has served as an ordained pastor since 2003. He attended Midland Lutheran College in Fremont, Nebraska where he met his wife Rhonda, who is also an ordained pastor. After getting married in 1997, Eric and Rhonda headed off to Trinity Lutheran Seminary in Columbus, Ohio. For two years, Eric and Rhonda both served as interns at Abiding Hope Lutheran Church in Littleton, Colorado under the supervision of Rev. Dr. Rick Barger. Eric and Rhonda served a three-point congregation around Ceresco, Nebraska as their first call. In 2004, they welcomed their daughter, Annika, and in 2006 they welcomed their son, Soren, into their family. Being a father is the hardest work he has ever loved. In 2007, their family moved to Lincoln, Nebraska and Pastor Eric served three calls as campus pastor, interim pastor, and pastor for pastoral care and adult faith formation. In 2010, Pastor Eric completed Seeking the Spirit Within, a two year faith formation process to become a certified spiritual director.
Pastor Eric felt called to Mountain View for their theological and biblical curiosity, diverse expression of music and worship, heart for reaching out in the community, and excitement to grow as disciples in everyday life. He brings gifts of preaching, teaching,  listening, authenticity, leadership, and culture creation.
Pastor Eric has discovered that running is the best way for him to care for his body, mind, heart, and soul. He's kind of a Bible nerd so he enjoys long theological/biblical conversations with anyone over coffee in the morning and over beer in the evening. He's passionate about being a good steward of God's creation and if you get him talking about electric vehicles, he won't shut up. He loves the outdoors and looks forward to exploring the outdoor wonderland of the Pacific Northwest.
•
PASTOR Briana R. Merkle • bmerkle@mtviewlutheran.org
► Pastor Bri has served at Mountain View since 2018 with an emphasis on youth and family ministry. Having grown up in Puyallup and attending the University of Washington, Pastor Bri then pursued her Masters of Divinity at Pacific Lutheran Theological Seminary in Berkeley, CA—where she also met her husband, Kyle, now a fellow Lutheran Pastor in the Puyallup area.
Pastor Bri was drawn to the Mountain View family by the depth of relationships and the depth of theological and Biblical reflection among this community. Her call is to further these same characteristics among the youth and families of the congregation. Her ministry is marked by the gifts of joy, steadfastness, organizational leadership, and a gentle wisdom.
In her spare time, Pastor Bri enjoys discovering good coffee shops and baking for family and friends; she also aspires to have a thriving home garden. Most recently, she became a mother and now enjoys the gift of raising her daughter within the family of Mountain View Lutheran Church.
—
PROGRAM STAFF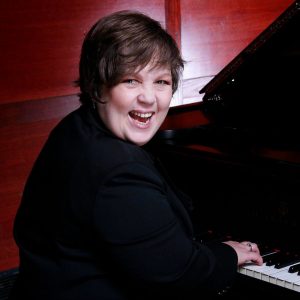 DIRECTOR of MUSIC MINISTRIES Brenna Sage • bsage@mtviewlutheran.org
► Brenna relocated to Seattle in September 2021, after having returned to her home town of Hebo, Oregon (in Tillamook County) in 2014. While there, she served two congregations in Tillamook, worked as a music director, stage director.  She also began a rock music program at a youth correctional facility as part of their summer instruction. This experience led her to seek a position at the School of Rock in West Seattle, where she teaches voice and keyboards.
From 2002-2014 Brenna lived in New York City, where she worked as a theatrical music director, accompanist, and vocalist, writing and performing three one-woman shows. Though she was trained as a classical pianist, rock and pop music was a major influence when she was a child. While in school, she also studied clarinet, oboe, saxophone, flute, drums and organ. At Lewis and Clark College she played and sang traditional Indonesian music as part of their Javanese Gamelan. She completed her BA at Hunter College in NYC, with a major in music and a minor in theatre. As a church musician, Brenna has worked with denominations including: ELCA, Reformed Church of America, Presbyterian, Episcopal, Baptist, Unitarian Universalist, Methodist, Messianic Jewish, and Roman Catholic.
Brenna is a member of the American Contract Bridge League, and is always up for a game of bridge! She recently completed a seven month road trip, with her little dog, Bebel – who will want to meet each and everyone of you! Her intention was to find a new place to settle. After visiting 35 states, camping and staying with family and friends, she is delighted to be right back in the Pacific Northwest.
—
SUPPORT STAFF
MINISTRIES COORDINATOR Marlene Wright • mwright@mtviewlutheran.org
► Marlene and her husband Keith have been members of Mountain View since 2009.  Marlene grew up in Federal Way where she graduated from Federal Way High School.  She then attended Washington State University and received a degree in Business Administration with an emphasis in Information Technology.  She spent 12 years working at Weyerhaeuser before deciding to stay home with her three children, Connor, Jarod and Sarah.
In 2016 when Connor left for college, Marlene made the decision to return to the work force.   She spent 2 years at Creator Lutheran Church as their Office Ministries Coordinator before coming to work for Mountain View in 2018.
In her spare time Marlene enjoys walking her dog Winston, gardening, crocheting, watching Seattle Storm and Seahawks games, and yearly trips to Pullman.
•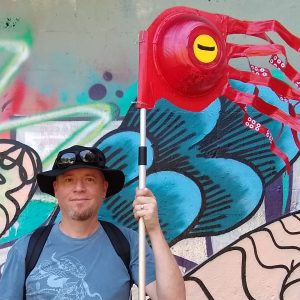 COMMUNICATIONS DIRECTOR Troy Kehm-Goins • tkehm-goins@mtviewlutheran.org
► Troy has been a member of Mountain View Lutheran Church, along with his wife Carianne, for more than 26 years. They were married at MVLC. Their daughter Kyra was baptized at MVLC and participates in the high school youth group.
Troy graduated from University of Washington Tacoma with a BA in Liberal Studies and previously worked in the book industry for sixteen years. He has served on staff in various roles—Small Group Ministry Coordinator, Administrative Assistant, and now Communications Director—as well as taught high school Sunday school for a number of years.
Troy is an avid reader, writes poetry, and enjoys sidewalk chalk art, gardening, and day hiking. His favorite novel is Moby-Dick, his favorite animal is the North Pacific giant octopus, and his favorite prophet is Elijah.
He is a practioner of two martial arts—qigong (Chinese body movements) and iaido (Japanese sword drawing).
—
CUSTODIAN Yelena Zhurko
•
PROPERTY and OFFICE MANAGER Henry Peck