Staff
The staff of Mountain View Lutheran Church is committed to bringing excellence in all that they do to help support and further the vision, mission, and ministry of the congregation.
PASTORAL STAFF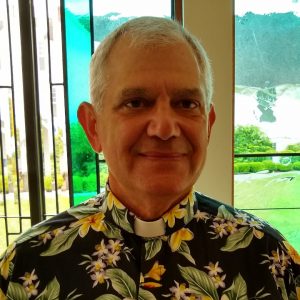 LEAD PASTOR of INTERIM and ADMINISTRATION Mike Greenwalt • mgreenwalt@mtviewlutheran.org
► As our Lead Pastor for Interim and Administration, Pastor Mike comes to our community here at Mt. View Lutheran Church with a richness of skills and experience through his pastoral leadership in a wide variety of ministry settings.   In providing spiritual care, guidance and sacred support to all persons within the context of their personal faith discipline or orientation as a Navy Chaplain, Pastor Mike has successfully led teams of up to 14 staff in caring for military personnel and their families often in the most arduous of settings and circumstances.
His advanced skills training and experience include; 5 units of Clinical Pastoral Education, Executive and Department Manager training, Critical Incident Stress Management, Post-Trauma Debriefing and Care, Organizational and Family Resilience.
Pastor Mike was raised in Lynnwood, WA, growing in his faith journey as a member of Trinity Lutheran Church where he was confirmed and ordained.  A graduate of the University of Washington and Wartburg Theological Seminary, Pastor Mike served 12 years as a parish pastor in Colorado prior to his commission as a Navy Chaplain from which he retired in 2017 following 24 years of service.  Most recently he has served as a hospital Chaplain, and an interim pastor for another synod congregation.
Pastor Mike and his wife, Suzi, reside in Port Orchard.  They have 4 adult children who live with their families in Colorado.
—
LEAD PASTOR of PASTORAL CARE Kim Latterell • klatterell@mtviewlutheran.org
► Photo and bio of Pastor Kim coming soon.
—
ASSOCIATE PASTOR Briana R. Merkle • bmerkle@mtviewlutheran.org
► Pastor Briana began her ministry at Mountain View Lutheran Church on Sunday 6/17/2018.
Bio of Pastor Bri coming soon.
—
PROGRAM STAFF
DIRECTOR of MUSIC MINISTRIES Susan Bloomfield • sbloomfield@mtviewlutheran.org
► Susan E. Bloomfield is a multi-faceted musician with gifts as pianist, vocalist, organist, choral director, educator, and composer. Susan holds a Bachelor's degree in Organ Performance with an emphasis in Choral Conducting from Pacific Lutheran University where she studied with David Dahl, James Holloway, Kathryn Habedank, Richard Nance, and Richard Sparks. Susan received a Master of Music degree from Western Washington University where she wrote a Master's thesis on Elizabeth Stirling, a female organist and composer from Victorian England.
In addition to her degrees in classical music, Susan is trained in the application of cross-cultural music and healing through the Open Ear Center, Santa Fe. In all her work, Susan seeks to use music to promote our connection to one another and the Divine.
—
SUPPORT STAFF
CHURCH ADMINISTRATOR Phil Edlund • pedlund@mtviewlutheran.org
► Phil began his service to the community at Mountain View Lutheran Church in 2012, and completed the Certified Church Administrator process in July of 2017. Part of the three year long process included two weeks on-site at a seminary, several additional workshops and classes related to Personnel/Human Resources Management, Facilities Management, Stewardship, Technology, and Financial Management. Additionally, the process entailed completing a 2+ yearlong project related to the field of Church Administration. Phil used the Former Things New Things Building Project (two capital campaigns and the physical planning and construction of the new Administrative/Fellowship Building and Gathering Space), along with three other capital campaigns, to study and explain how capital campaigns in a congregation setting are much different than capital campaigns in other non-profit entities.
After graduating from Pacific Lutheran University; completing a Bachelor's and Master's of Business Administration, Phil worked in finance and banking. Phil also created and operated a landscape maintenance service for 11 years before selling the business prior to graduation. Prior to Mountain View, Phil worked as a congregational consultant with more than 300 congregations throughout Western Washington for 10 years, recruiting and training more than 2,000 volunteers at the merger of Lutheran Brotherhood/Aid Association for Lutherans.
Others on staff tease Phil about being a "slumlord", which is actually quite the opposite. Phil enjoys renovating and restoring old houses and providing great places to live near the Pacific Lutheran University campus. Phil's other hobbies include travel, karaoke, playing the piano, and catching up of reruns of the Golden Girls.
Phil continues to enjoy the challenges of caring for God's house and resources at Mountain View Lutheran Church, serving with others, and planning ahead to support the next ministry opportunity that God places before us!
—
PARISH WORKER Marlene Wright • mwright@mtviewlutheran.org
► Marlene and her husband Keith have been members at Mountain View for 9 years. Marlene was born and raised in the Federal Way, WA.  She attended Washington State University where she received her bachelor's degree in Business Administration. She worked at Weyerhaeuser in Federal Way for 12 years before choosing to stay home with her three kids (Connor, Jarod and Sarah). In 2016 Marlene took the role of Office Ministry Coordinator for Creator Lutheran Church in Bonney Lake. While she loved her position at Creator, when the opportunity to work for her own congregation presented itself, she couldn't pass it up.
Marlene feels privileged to serve this community of Christ and looks forward to getting to know all those who worship here.
—
COMMUNICATIONS DIRECTOR Troy Kehm-Goins • tkehm-goins@mtviewlutheran.org
► Troy has been a member of Mountain View Lutheran Church, along with his wife Carianne, for more than 20 years. They were married at MVLC and their daughter Kyra was baptized at MVLC as well as participating in the high school youth group.
Troy graduated from University of Washington Tacoma with a BA in Liberal Studies and previously worked in the book industry for sixteen years. He has served on staff in various roles—Small Group Ministry Coordinator, Administrative Assistant, and now Communications Director—as well as taught high school Sunday school for a number of years.
Troy is an avid reader, writes poetry, and enjoys sidewalk chalk art, gardening, and day hiking. His favorite novel is Moby-Dick, his favorite animal is the North Pacific giant octopus, and his favorite prophet is Elijah.
—
CUSTODIAN Yelena Zhurko